Voxel51 Inc. was started on October 18, 2018 to enable developers, scientists, and organizations to build high-quality visual AI datasets and computer vision models. Today our company turns five years old!
It's incredible to look back since our company's fourth birthday and see all the new milestones we have to celebrate. In this post, we share some of our biggest moments over the past year so you can catch up on interesting news and topics you may have missed, or revisit some of your favorites.
🚀 The FiftyOne Community Continues to Grow!
The open source FiftyOne community continues to see tremendous growth! We are very grateful for all the community momentum, participation, and contributions.
Here's a snapshot of growth and milestones since our last birthday:
Thank you to everyone in the FiftyOne community! Open source software like FiftyOne doesn't happen without you.
💝 Recognizing & Rewarding Community Achievements
At Voxel51, we love recognizing and rewarding community efforts and achievements. In November '22 we launched the open source FiftyOne Community Rewards program. Since then we have rewarded 70+ community members around the world for helping others in Slack, filing GitHub issues, speaking at Computer Vision Meetups, and more!
We also launched the Success Story program, which is an easy way to snag some swag of your own. Is your company using FiftyOne to solve interesting computer vision problems? Share your success story and claim a box of community rewards as a thank you.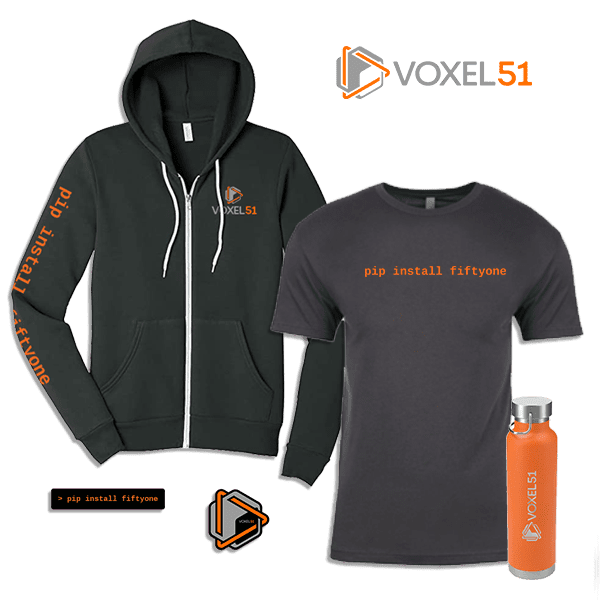 Ever wondered how others are using FiftyOne and what benefits they see? Check out the stories from people and organizations building remarkable machine learning and AI using FiftyOne and FiftyOne Teams.
🌞Meetups Are Heating Up!
Another amazing highlight over the past year is Meetups!
Voxel51 sponsors a network of 13 Computer Vision Meetups around the world. We held the first ever Computer Vision Meetup in November '22, and have been delighted to host 1-2 of these meetups per month in various timezones ever since. The Computer Vision Meetup is geared towards data scientists, machine learning engineers, and open source enthusiasts who want to expand their knowledge of computer vision and complementary technologies. We're always looking for speakers at the cutting edge of computer vision who are practitioners or academics doing research in the field. Interested in speaking? Reach out here.
In the past year, Voxel51 has also become a proud sponsor of the AI, Machine Learning, and Data Science Meetup network, with 12 groups globally. This meetup network now has 10,590+ members worldwide! These Meetups cover a broad variety of topics aimed at AI developers, data scientists, and machine learning engineers who want to learn from fellow technologists and experts. Each month we'll bring you two diverse speakers working at the cutting edge of data science, machine learning, and AI.
Become a Meetup member! Click your Meetup(s) of choice then scroll to join the group closest to your timezone:
You can also find the schedule of meetups (and more!) on the Events Calendar.
🆕 New Products & Features
Here are some product highlights since our last birthday.
FiftyOne Open Source
We released 14 total versions of open source FiftyOne over the past 12 months! Here's a look at some of the feature highlights:
FiftyOne 0.18 introduces app performance improvements, sidebar modes, and custom attributes.
FiftyOne 0.19 introduces spaces, in-app embeddings visualization, and saved views.
FiftyOne 0.20 introduces natural language search, vector database integrations, and point cloud-only datasets.
FiftyOne 0.21 introduces operators, dynamic groups, and custom color schemes.
FiftyOne 0.22 introduces delegated operations, and a native Ultralytics integration
FiftyOne Teams
FiftyOne Teams extends open source FiftyOne with a GSuite-like experience for teams that want to collaborate on data stored in a centralized location with additional features like user permissions, dataset versioning, cloud-backed media, and enterprise security.
We also released 14 versions of FiftyOne Teams over the past 12 months! Feature highlights include:
FiftyOne Teams 1.0 is generally available!
FiftyOne Teams documentation is publicly available!
FiftyOne Teams 1.2 brings enhancements to enterprise security controls, new Dataset page capabilities, and support for sharded databases.
FiftyOne Teams 1.3 introduces even more collaboration features, admin capabilities, and fine-grained enterprise security controls.
FiftyOne Teams 1.4 introduces dataset versioning, delegated operations, and more.
🍭 Other Goodies You Won't Want to Miss
Here's a look back at other significant news and blogs over the last year.
🔌 Plugins, Plugins, Plugins!
Back in the FiftyOne 0.21 release was the addition of a powerful new feature called Operators to FiftyOne's Plugin framework that allows you to trigger arbitrary custom functionality directly from the App via custom forms, all written in Python. This is a game-changer, unleashing limitless potential for you to customize your FiftyOne experience exactly as you like.
What's possible with Plugins? You can add new functionality to the FiftyOne App, create integrations with other tools and APIs, render custom panels, and add custom buttons to menus. You can even schedule long running tasks from within the App that execute on a connected workflow orchestration tool like Apache Airflow. With FiftyOne Plugins, the sky's the limit on how you can extend the FiftyOne computer vision toolkit to meet the needs of your data and model workflows.
To demonstrate just some of the possibilities, over 10 weeks we built a FiftyOne Plugin (or multiple) and shared the lessons learned. You can find what we built here on the 10 Weeks of FiftyOne Plugins repo.
Now that you've seen our Plugins, we're curious to see what you'll build!
🔦 Industry Spotlights
We introduced a new blog series to highlight how different industries – from construction to climate tech, from retail to robotics, and more – are using computer vision, machine learning, and artificial intelligence to drive innovation. For each industry, we dive deep into the main computer vision tasks being put to use, current and future challenges, and companies at the forefront.
So far we've covered these industries, with more on the way!
🛠️ Educational Workshops
We created an educational workshop series to help anyone boost their knowledge of computer vision and open source FiftyOne.
Since launching the workshops, 600+ people have attended the Getting Started workshop – half lecture, half lab, attendees walk away with everything they need to use FiftyOne for visual AI data curation and computer vision model evaluation. See the schedule of upcoming Getting Started workshops.
And we just introduced a new workshop – FiftyOne Plugins Workshop: Authoring Data-Centric AI Applications. Learn more and join us on Nov 15 @ 9 AM Pacific!
👋 VoxelGPT: Your AI Assistant for Computer Vision
This year also brought about an exciting new plugin to FiftyOne: VoxelGPT!
Want to surface interesting insights about your image and video datasets without writing code? Now you can with VoxelGPT. VoxelGPT combines the power of large language models (LLMs) with FiftyOne's flexible computer vision query language, making it easier than ever to semantically slice computer vision datasets and build better machine learning models.
⚡ Try FiftyOne Instantly in Your Browser
This year, we also launched an online version of FiftyOne at try.fiftyone.com so you can instantly interact with large datasets directly within your browser. No download required. Full evaluative, read-only functionality. It's easier than ever to experience FiftyOne Open Source and FiftyOne Teams to evaluate first hand where they fit into your AI Stack.
Explore large, preloaded datasets with a single click. Here are a few datasets and steps you can try out:
🗺️ What's Next