Upgrade to FiftyOne Teams to enable multiple users to securely collaborate on the same datasets and models, either on-premises or in the cloud, all built on top of the open source FiftyOne workflows that you're already relying on.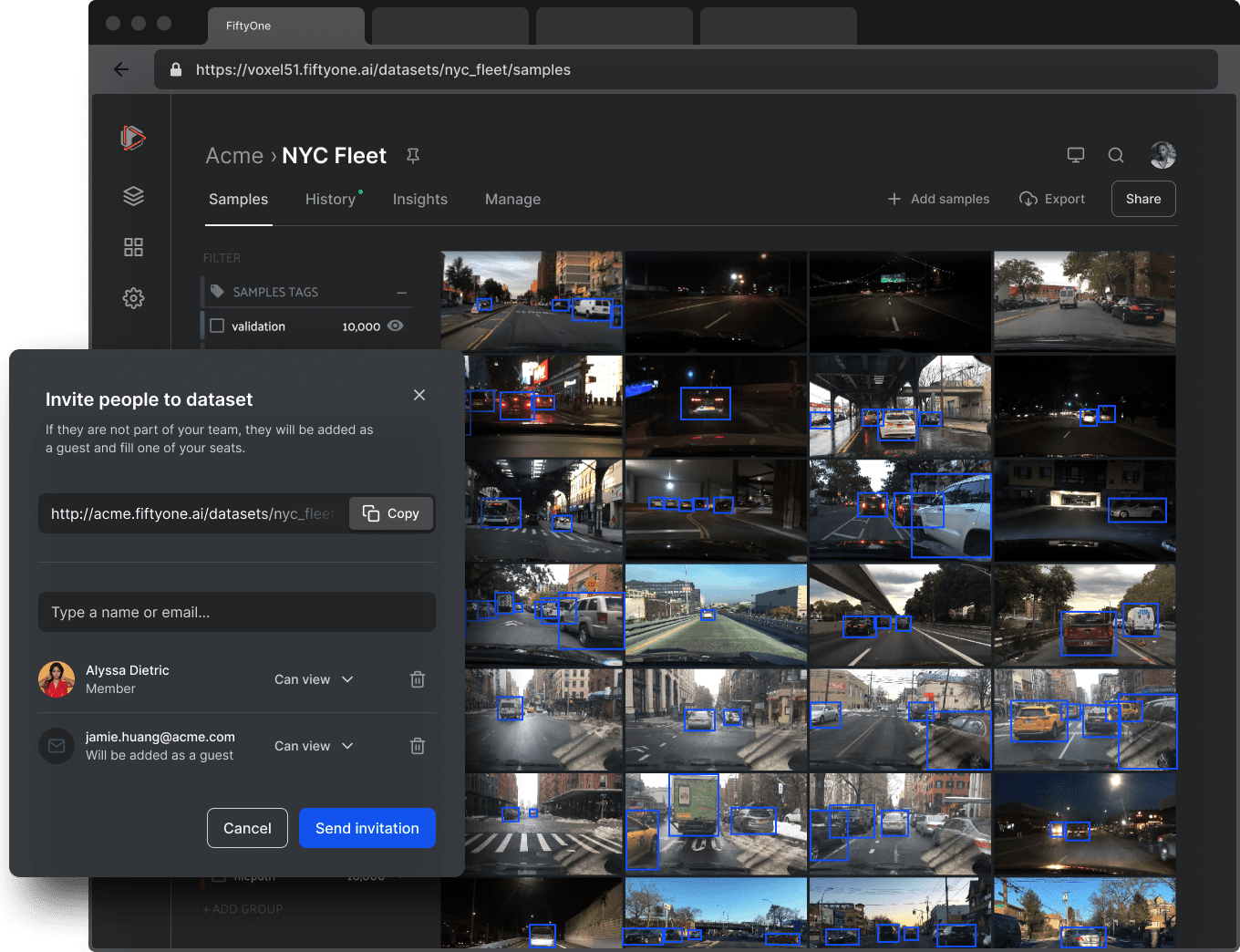 Share FiftyOne datasets and analysis securely amongst your team members.
Deploy FiftyOne Teams on-premises or in a private cloud. Your data never leaves your environment.
Store your dataset's media in cloud buckets and seamlessly access it from the browser or the Python SDK.
FiftyOne with an SLA. Get a dedicated Slack channel with same-day support, plus monthly video calls, focused training sessions, and more.
Unlimited data for your team with a flexible user-based licensing model.
FiftyOne Teams is built on top of open source FiftyOne, so you can continue to run code and workflows that you already rely on.
FiftyOne Teams helps us manage our huge datasets, collaborate on model evaluation, tighten our production schedule, and ultimately deliver solutions that help our customers better manage their risk. FiftyOne Teams has added tremendous value to our computer vision processes.
Philippe Sawaya  Director of Artificial Intelligence, ADT Commercial
Organize your team's datasets with intuitive features like tags, pins, and a powerful search by content feature to quickly locate the data you need.
Control access to your datasets at a team-wide or individual level, including fine-grained permissions like view, edit, and manage. You can also invite guests to specific datasets.
Track revisions to your datasets so you always know what data your models are trained on. View or rollback to previous versions of your datasets at any time.
Curate Datasets
Evaluate Models
Find Mistakes
Visualize Embeddings
Deployment
Multi-User, On-Premise, Private/Public Cloud
Local, Single-User
Cloud URL Support
Dataset Management
User Permissions
Dataset Permissions
Dataset Versioning
SSO
Enterprise Support
Slack Community
Licensing
Unlimited data and flexible user-based licensing
Apache 2.0
Join the community of developers and scientists who are already using FiftyOne to improve the quality of their data and build better models