Welcome to the monthly blog series where we bring you up to speed on recent happenings in the FiftyOne community and celebrate noteworthy milestones. 🙌 🚀
Community Spotlight
We love hearing how FiftyOne helps you solve challenges and reach new heights! Curious what sorts of use cases are possible with FiftyOne? Here's a highlight from the open source FiftyOne community.
Aidence turns complex data science into practical and intuitive solutions that make physicians' work easier. The company made it their mission to provide AI that empowers healthcare and pharmaceutical professionals to deliver faster, more precise diagnostics and treatments.
"I use FiftyOne on a daily basis to improve the quality of our data and visually inspect model predictions. I much prefer the interactive experience of FiftyOne over static notebooks with matplotlib figures."

— Marijn Lems, Machine Learning Engineer, Aidence
Learn more about computer vision use cases in healthcare in the latest industry spotlight: How Computer Vision Is Changing Healthcare in 2023
Community Rewards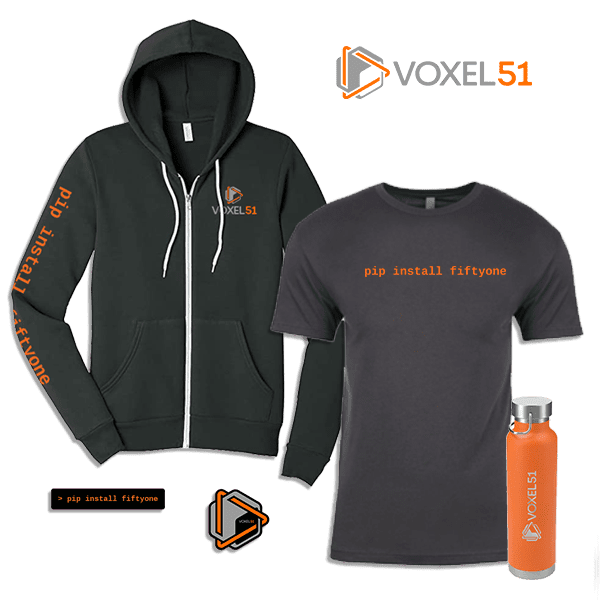 Is your organization using FiftyOne to solve interesting computer vision problems? Share your success story and claim a box of community rewards as a thank you!
Product Releases
In August there were a few point releases to both the open source and Teams versions of FiftyOne. Here are the links to the releases learn more:
Open Source FiftyOne
FiftyOne Teams
Community Integrations
August brought us three new exciting integrations with computer vision models.
Segment Anything
Several Segment Anything models have been added to the FiftyOne Model Zoo. (SAM is a promptable segmentation system with zero-shot generalization to unfamiliar objects and images, without the need for additional training.)
DINOv2
Several DINOv2 models produce high-performance visual features that can be directly employed with classifiers as simple as linear layers on a variety of computer vision tasks; these visual features are robust and perform well across domains without any requirement for fine-tuning. The models were pretrained on a dataset of 142 M images without using any labels or annotations.
PyTorch Hub Integration
FiftyOne integrates natively with PyTorch Hub, so you can load any Hub model and run inference on your FiftyOne datasets with just a few lines of code! Learn more about the integration in the FiftyOne Docs.
FiftyOne on GitHub
GitHub is home to the open source FiftyOne project. Here's the latest snapshot of what's happening in the FiftyOne GitHub repo:
Total stars: 4,100+
Total contributors: 72
Total used by: 379
Total forks: 410
Total issues closed so far: 872
FiftyOne Community Slack
The FiftyOne Community Slack channel is where you can join more than 2,000 machine learning engineers and data scientists using FiftyOne to improve the quality of their computer vision data and build better models. Last month alone we had almost 150 new members join. Ask questions, answer questions, or simply follow along with the discussion!
To make it easy to catch the highlights, every Friday we recap interesting questions and answers from Slack in Tips & Tricks blog series. Recent posts include:
Computer Vision Meetups
Voxel51 sponsors 13 virtual Computer Vision Meetups and 12 AI, Machine Learning, and Data Science Meetups around the world. (To join, visit the previous Meetup links and scroll down to find the location friendliest to your time zone.)
The Computer Vision Meetups are geared towards data scientists, machine learning engineers, and open source enthusiasts who want to expand their knowledge of computer vision and complementary technologies. We put an emphasis on open source software, and speakers who are computer vision practitioners or academics doing research in the field. This month's Meetups include:
Sept 14 Computer Vision Meetup
ARMBench: An Object-Centric Benchmark Dataset for Robotic Manipulation – Amazon Robotics team
From Model to the Edge, Putting Your Model into Production – Joy Timmermans, Secury360
Optimizing Distributed Fine-Tuning Workloads for Stable Diffusion with the Intel Extension for PyTorch on AWS – Eduardo Alvarez, Intel
Recapping August's Meetups
If you missed any of last month's Meetups, you can get the executive summaries and links to the video playbacks here:
Upcoming Computer Vision Events
In addition to Meetups, we invite you to join us for one or more of these upcoming events:
New Docs, Blogs, Videos, and Tutorials
We want everyone to be successful with FiftyOne, and one of the ways we try to do that is by publishing resources that you might find helpful and handy. Here's a list of some of the new documentation, blogs, videos, tutorials, integrations, and cheat sheets that you may want to check out.
Blogs
Videos
Voxel51's Commitment to Open Source and Community
Open source, transparency, and giving back to the computer vision community is what we are all about! Whether it's developing the open source FiftyOne computer vision toolset to help engineers and data scientists build high-quality datasets and models, sponsoring Meetups to help members boost their computer vision knowledge, or giving to charitable causes on behalf of the community, Voxel51 is committed to bringing transparency and clarity to the world's data.
What's Next?