Welcome to the monthly blog series where we bring you up to speed on recent happenings in the FiftyOne community and celebrate noteworthy milestones. 🙌 🚀
Community Spotlights
We love hearing how FiftyOne helps you solve challenges and reach new heights! Curious what sorts of use cases are possible with FiftyOne? Here's a highlight from the open source FiftyOne community.
"Fast Code AI relies on FiftyOne for managing our data lifecycle. Upon receiving initial data from our data labeling partner, IndiVillage, we load it into FiftyOne and scrutinize the labeling for any initial inconsistencies. We then provide feedback and obtain the next batch of data. This is where we train our baseline models and identify any outliers. We sort the data by their ground truth class confidence values in increasing order and display it in FiftyOne. This helps us easily spot and correct any incorrect labels. With approximately 30 attributes per image and over 40 possible values for each attribute, visualizing the data elsewhere is challenging. We greatly appreciate FiftyOne's contribution to our workflow, as it has significantly increased our efficiency. We cannot imagine managing our data without this tool, as it offers an unmatched level of customization and functionality."

— Arjun Jain, Founder and Chief Scientist, Fast Code AI
Community Rewards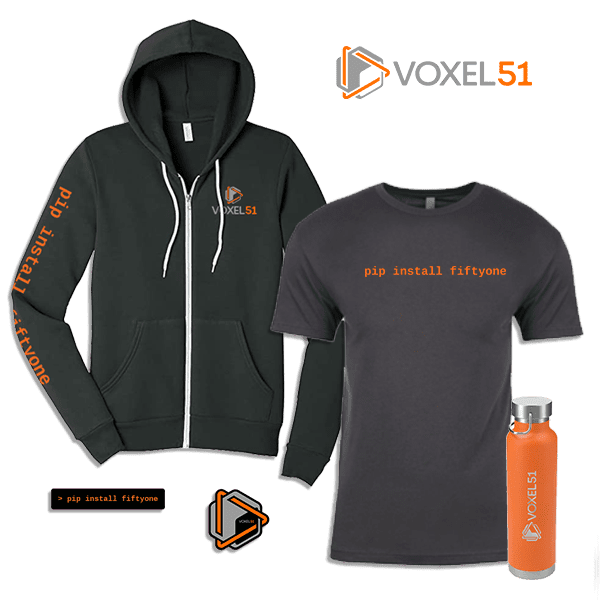 Is your organization using FiftyOne to solve interesting computer vision problems? Share your success story and claim a box of community rewards as a thank you!
Product Releases
In July there were a few point releases to both the open source and Teams versions of FiftyOne. Here are the links to the releases learn more:
Open Source FiftyOne
FiftyOne Teams
Community Integrations
July brought us two new exciting vector search integrations!
Milvus
Milvus is one of the most popular vector databases available, and we've made it easy to use Milvus's vector search capabilities on your computer vision data directly from FiftyOne! FiftyOne provides an API to create Milvus collections, upload vectors, and run similarity queries, both programmatically in Python and via point-and-click in the App. Follow these simple instructions to get started using Milvus + FiftyOne. Shout out to Filip Haltmayer from Zilliz for creating the integration.
LanceDB
LanceDB is a serverless vector database with deep integrations with the Python ecosystem. It requires no setup and is free to use. FiftyOne provides an API to create LanceDB tables and run similarity queries, both programmatically in Python and via point-and-click in the App. Shout out to Ayush Chaurasia from LanceDB for creating the integration.
FiftyOne on GitHub
GitHub is home to the open source FiftyOne project. Here's the latest snapshot of what's happening in the FiftyOne GitHub repo:
Total stars: 3,900+
Total contributors: 65
Total used by: 359
Total forks: 391
Total issues closed so far: 844
FiftyOne Community Slack
The FiftyOne Community Slack channel is where you can join more than 1,900 machine learning engineers and data scientists using FiftyOne to improve the quality of their computer vision data and build better models. Last month alone we had almost 150 new members join. Ask questions, answer questions, or simply follow along with the discussion!
To make it easy to catch the highlights, every Friday we recap interesting questions and answers from Slack in Tips & Tricks blog series. Recent posts include:
Computer Vision Meetups
Voxel51 sponsors 13 virtual Computer Vision Meetups around the world. (To join, visit the Meetup link and scroll down to find the location friendliest to your time zone.)
The Computer Vision Meetups are geared towards data scientists, machine learning engineers, and open source enthusiasts who want to expand their knowledge of computer vision and complementary technologies. We put an emphasis on open source software, and speakers who are computer vision practitioners or academics doing research in the field. This month's Meetups include:
August Computer Vision Meetup
Neural Congealing: Aligning Images to a Joint Semantic Atlas – Dolev Ofri-Amar at Weizmann Institute of Science
Advancing Personalized Medicine and Radiotherapy through AI-Enabled Computer Vision – Roushanak Rahmat, PhD, AI Researcher
A Practical Approach to Deep Learning for Computer Vision with Tensorflow 2 – Folefac Martins at Vinsight and ML Instructor
August Computer Vision Meetup – APAC
Removing Backgrounds Automatically or with a User's Language – Jizhizi Li, PhD, University of Sydney
Self-Supervised Representative Learning for Action Recognition in Videos – Vidhya Vinay, Co-Founder of Streamingo.ai
AI at the Edge: Optimizing Deep Learning Models for Real-World Applications – Raz Petel, SightX
Recapping July's Meetups
If you missed any of last month's Meetups, you can get the executive summaries and links to the video playbacks here:
Upcoming Computer Vision Events
In addition to Meetups, we invite you to join us for one or more of these upcoming events:
New Docs, Blogs, Videos, and Tutorials
We want everyone to be successful with FiftyOne, and one of the ways we try to do that is by publishing resources that you might find helpful and handy. Here's a list of some of the new documentation, blogs, videos, tutorials, integrations, and cheat sheets that you may want to check out.
Blogs
Videos
Voxel51's Commitment to Open Source and Community
Open source, transparency, and giving back to the computer vision community is what we are all about! Whether it's developing the open source FiftyOne computer vision toolset to help engineers and data scientists build high-quality datasets and models, sponsoring Meetups to help members boost their computer vision knowledge, or giving to charitable causes on behalf of the community, Voxel51 is committed to bringing transparency and clarity to the world's data.
What's Next?